Inloggen
Als u een account bij ons heeft, meld u dan aan.
Registreren
Door een account aan te maken in deze winkel kunt u het betalingsproces sneller doorlopen, meerdere adressen opslaan, bestellingen bekijken en volgen en meer.
Account aanmaken
Blomsterkrans Muse Sanne
31 Oct 2018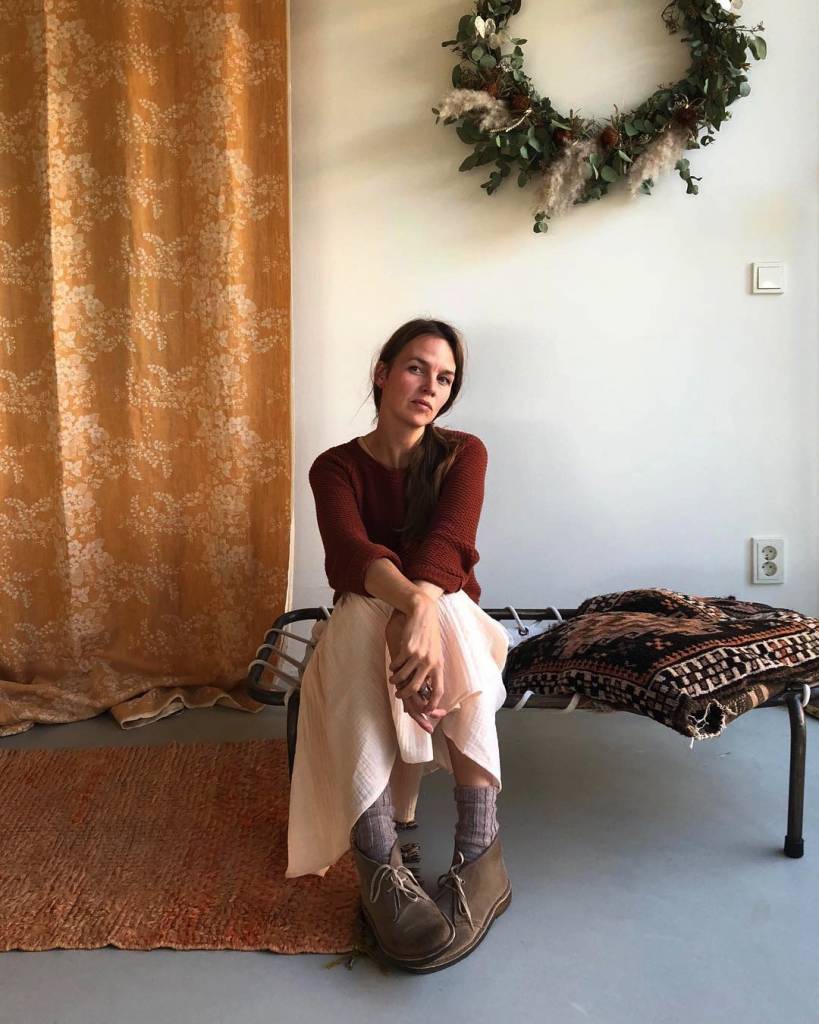 Introducing our Blomsterkrans muse – Sanne Hop
Sanne Hop is stylist, photographer and overall, mother of four beautiful kids - Ole, Hannes, Pippa and Kaatje. On her @Sannehop Instagram account she shares a glimpse of her life. Her style is quintessential what we aim with our Blomsterkrans vision; distinctive, yet welcoming. Calm, but playful. Well-chosen, natural products, mostly from ethical and small boutiques take a central role in the home of Sanne Hop and her family. No doubt we loved Sanne to be our Blomsterkrans muse. We asked Sanne a few questions about her affiliation with flowers. Enjoy reading her answers below.
What is your favourite flower?
It is not so easy for me to choose one favourite flower as I love so many flowers. As a forest lover I get inspired by the combination of flowers and branches I see when walking around through the woods. Also the wild flowers around our new house make me happy, like poppies, cornflowers and field bindweed. Though we are careful in picking flowers, the children very much enjoy gathering flowers for our seasonal table or their own rooms.
I have a special love for Eucalyptus, because of the amazing scent and playful appearance. And not to forget beautiful gypsophila, with its delicate little white flowers. Also dried flowers are fantastic, like craspedia, poppies, wheat or hydrangeas; they have the most beautiful colors and they're so versatile; you can frame dried flowers, combine them in a bouquet or use dried flowers in a wreath.
How do you use wreaths in your interior?
I absolutely love floral wreaths. It is wonderful to move with the seasons and wreaths are perfect for that. Around Christmas we had a wreath of fragrant Christmas green. And in the summer a mix of beautifully colored summer flowers. Ideally, I would hang a wreath in every room, but that would be a bit too expensive, so I like to move the wreath from the living room to the bedroom and the hall, to enjoy it from a new perspective. It is an indispensable thing for me, a nice wreath. I especially like it when the flowers in the wreath are loosely put together, as in a wildflower field or natural forest. 
How important are flowers to you?
Flowers are very important to me. They bring atmosphere, colour and cosines. If you look closely, flowers can also tell a lot about people. How someone chooses his or her flowers, which types are placed together and which colors are chosen. It's very interesting. I very much enjoy choosing flowers with my favourite colours and reflecting the season. A fun activity I enjoy doing with the children is decorating our seasonal table with natural treasures. The children come up with the most beautiful things, like shells, stones, leaves, minerals and flowers. This all unconsciously helps us to connect with our environment and the ever changing seasons.
Endnote: We want to thank Sanne for participating in this interview. All pictures are made by the talented Sanne Hop.